Surgery in Atlanta & Travel Assistance
Surgery in Atlanta & Travel Assistance
Atlanta is a world-class, modern city with some of the nation's leading healthcare facilities. Whether you are driving to Atlanta or travelling internationally, it is easy to make arrangements to have your spine surgery performed by Dr. Jeffords.
Additional information on Atlanta
www.atlanta.net
Air Travel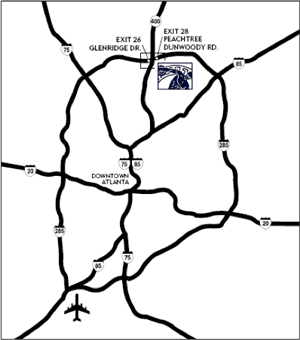 Atlanta is served by world-class Hartsfield-Jackson Atlanta International Airport (ATL), which serves more than 89 million passengers per year. www.atlanta-airport.com
Dr. Jeffords' office at Resurgens Spine Center is located about 20 miles north of the airport, a quick and easy cab ride up Interstate 85 and 400.
Area Information
Dr. Jeffords' office is located in the Perimeter Area of Atlanta just inside of I-285 where it intersects with GA 400. The Perimeter area is where the incorporated cities of Sandy Springs and Dunwoody meet. The office is conveniently located near Perimeter Mall and a variety of shopping and dining.
Medical Facilities
Dr. Jeffords' surgeries are performed at either the Resurgens Surgical Center or Saint Joseph's Hospital of Atlanta. Click here to learn more about these premiere medical facilities.
Area Accommodations
A variety of nearby hotels offer discounts for friends and family members of patients, and these are listed below for your convenience. Please contact the hotel directly for details about the discounts offered, about room rates and availability.
Comfort Suites
6110 Dunwoody Rd.
Atlanta, GA 30329
(770) 828-0330
Crowne Plaza Atlanta Perimeter at Ravinia
4355 Ashford Dunwoody Road
Atlanta, GA 30346
770-395-7700
Fairfield Inn & Suites Perimeter Center
1145 Hammond Drive
Atlanta, GA 30328
770-350-0000
Hampton Inn Atlanta Perimeter Center
769 Hammond Dr., NE
Atlanta, GA 30328
(404) 303-0014
Hilton Atlanta Perimeter Suites
6120 Peachtree Dunwoody Road
Atlanta, GA 30328
770-668-0808
Hilton Garden Inn - Perimeter Center
1501 Lake Hearn Drive
Atlanta, GA 30319
404-459-0500
Holiday Inn Atlanta Perimeter
4386 Chamblee Dunwoody Road
Atlanta, GA 30341
770-457-6363
Holiday Inn Express
765 Hammond Dr., NE
Atlanta, GA 30328
(404) 250-4450
Hyatt Place Perimeter Center Atlanta
1005 Crestline Parkway NE
Atlanta, GA 30328
770-730-9300
La Quinta Inn & Suites Atlanta Perimeter Medical Center
6260 Peachtree Dunwoody Road
Atlanta, GA 30328
770-350-6177
Le Meridien Atlanta Perimeter (formally W Perimeter Hotel)
111 Perimeter Center West
Atlanta, GA 30346
770-396-6800
Marriott Perimeter Center
246 Perimeter Center Parkway
Atlanta, GA 30346
770-394-6500
Sheraton Atlanta Perimeter North
800 Hammond Drive NE
Atlanta, GA 30328
404-564-3000
Westin Atlanta North at Perimeter
7 Concourse Parkway
Atlanta, GA 30328
770-395-3900
Additional Resources for Area Accomodations:
Perimeter area: http://www.atlanta.com/hotels/perimeter.aspx
Buckhead area: http://www.buckheadis.com/lodging