Thanks for printing! Don't forget to come back to Dr. Paul Jeffords, MD for fresh articles!
Extreme-Lateral Lumbar Interbody Fusion (XLIF)
The XLIF (eXtreme Lateral Interbody Fusion) is an approach to spinal fusion in which the surgeon accesses the intervertebral disc space and fuses the lumbar spine (low back) using a surgical approach from the side (lateral) rather than from the front (anterior) or the back (posterior).
Advantages of XLIF:
Minimally Invasive - 1" incision
Outpatient in many cases
Minimal Blood Loss
Stabilizes a painful, degenerated or unstable disc
The XLIF is one of a number of spinal fusion options that a surgeon may recommend to treat specific types of lumbar spinal disorders, such as lumbar degenerative disc disease, spondylolisthesis, scoliosis and some recurrent lumbar disc herniations and types of lumbar stenosis. It cannot be used for all types of lumbar conditions for which spinal fusion is a treatment option. For example, it cannot treat conditions at the lowest level of the spine, L5-S1 or for some people at L4-L5.
If You Have Decided to Have Surgery: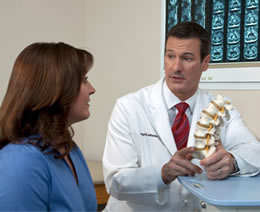 Call Dr. Jeffords' staff to schedule your surgery date and the date for your pre-operative visit.
At your pre-operative consultation Dr. Jeffords or his P.A. will discuss the procedure with you, answer any questions you may have, and have you sign a consent form for surgery.
You will be given prescriptions for pain medicine and instructions for post-operative care.
Your pre-operative evaluation at Resurgens Surgery Center or the hospital will be scheduled on the same day as your pre-operative consultation. You may have a chest X-ray, EKG, and bloodwork performed.
You will check into the surgery center or hospital the morning of surgery.
Surgical Procedure:
Your anesthesiologist will bring you to the operating room and put you to sleep for the operation. There are usually two nurses in the room and a surgical assistant that assists Dr. Jeffords with the operation.
You will be positioned lying on your side. Dr. Jeffords will use x-rays to locate the disc that will be removed and mark the skin with a marker directly above the disc.
Dr. Jeffords will make a small incision, typically one inch, on the side of your abdomen between your ribcage and pelvis.
A tube-like instrument known as a dilator is then inserted through this incision and x-rays are taken to make sure that this dilator is in a good position above the disc.
Dr. Jeffords will then insert a probe (blunt tool) through the psoas muscle, a large muscle that runs along side of the vertebrae (bones) and discs of the lower spine.
The probe is connected to a computer monitor designed to detect the position of spinal nerves that run through the psoas muscle. Detecting the position of the nerves helps avoid disturbing them during surgery. Although this helps identify potential nerve injury before it occurs, it is not a perfect process and there is still a small risk of nerve damage during the procedure.
Once it is determined that the nerves are safely out of the way, the psoas muscles are gently dilated and a retractor tool is put into place to hold the muscles out of the way, giving Dr. Jeffords direct access to the disc.
Dr. Jeffords is then able to perform a discectomy (removing the intervertebral disc) with tools designed to cut and remove the disc.
After the disc material is removed, a spacer (cage) is inserted into the disc-space. The cage holds the vertebrae in the proper position, ensures that the disc height (space between adjacent vertebral bodies) is correct, and keeps the spine properly aligned. The spacer is filled with bone graft material to allow the spine to fuse at that particular segment.
Sometimes, depending on the diagnosis of the patient, additional support is needed to hold the vertebrae in place. In this case, Dr. Jeffords may also decide to put in an additional implant, such as screws, plates or rods for added support.
A single-level XLIF procedure takes approximately one hour to perform.
After Surgery:
You will be taken to the recovery room (PACU) and stay there for about 1-1 ½ hours. Afterwards you will be taken to your hospital room where you can visit with your family.
Dr. Jeffords will speak to your family while you are in the recovery room.
You will be given a PCA pain-pump which is a machine that you are able to control to help alleviate any post-surgical pain. The following morning you will be switched from the PCA to oral pain pills.
The nurses will get you out of bed shortly after surgery and the physical therapists will work with you to ensure that you are strong enough to walk and climb stairs.
The surgical dressing is waterproof and you may shower over the dressing starting 48 hours after surgery. This dressing will stay on for 7 days and you will then remove it.
Many patients leave the same day of surgery. Some patients are admitted overnight.
You will be able to ride in a car or plane upon leaving the hospital.
After Going Home:
You will be given pain medication and a muscle relaxant to help control post-operative pain and spasms. Make sure you do not drive or operate heavy machinery while on the medication.
You may drive once you are off of your medications (generally at about 2-3 weeks).
You can expect to return to sedentary office or desk work approximately 2-3 weeks after surgery.
If you perform manual labor that requires heavy lifting or frequent bending or climbing, you should wait 3-6 months before returning to this activity. You can return to moderate duty at 6 weeks.
X-rays will be taken at each of your post-op visits at 2 weeks, 3 months, and 6 months.
The fusion is usually seen to be solid by the 3-6 month visit.
Sports activities such as golf or tennis may be resumed at 3-6 months if the fusion is solid.